A lot of people I know are going through very hard times right now. It may be sickness, trouble with the kids, marriage issues, financial problems or a host of others. Because of my role as pastor, I get to be a sympathetic ear and offer a little bit of advice. In spite of the wide variety of issues, I've found that there are some commonalities that apply to all of us. This may appear to be more of a sermon than an article. No apologies - it just came out that way.
The words of Jesus ring as true today as they did when He first spoke them. He said in the first half of John 16:33,
"In this world you will have trouble."
I meet a lot of people who appear surprised that life is difficult, but we shouldn't be. In fact, we really should expect problems. We live in a fallen world with fallen people and we experience pain because of both of those realities. Jesus speaks of another reason.
In John 10:10 He says,
"
The thief comes only to steal and kill and destroy; I have come that they may have life, and have it to the full."
A lot of people have a hard time with the idea of Satan or the devil, but Jesus was very clear that he is real. It's very difficult to look around us today; to read the newspaper or watch the CNN headlines and deny the reality of evil. The Bible further teaches that that there are spiritual forces which are at work in our world beyond what we can see. If what Jesus said was true, we can ask some questions to provide clarity about whatever we might be facing.
What is the enemy trying to do?
For some of you, the enemy's goal is to destroy your family. He may do this by using the wounds and hurts of the past to create new tensions and battles today. Our culture has become more and more selfish and less and less responsible. We like quick fixes and easy answers. Life doesn't work that way. Often the enemy finds willing allies in our very own homes - sometimes even us - because we have drifted away from a vital relationship with Jesus Christ.
Nobel Prize winner
Aleksandr Solzhenitsyn
was so insightful when he wrote about dealing with evil:
"If only it were all so simple! If only there were evil people somewhere insidiously committing evil deeds, and it were necessary only to separate them from the rest of us and destroy them. But the line dividing good and evil cuts through the heart of every human being. And who is willing to destroy a piece of his own heart?"
It's important to try to step back and look at the big picture. What is at the root of the problems you face?
What is God trying to do?
What we often miss is that God is not surprised by what we're going through. He is very aware of every situation in our lives and is wanting to bring about an outcome that works out ultimately for our good - if we love Him (See
Romans 8:28
). Jesus said that He has come that we
"
may have life, and have it to the full."
We see examples of what He meant throughout the New Testament as we see descriptions of the life He intended.
In the midst of our challenges, for example, He has offered us His peace. Where there is division, his goal is reconciliation. Where there is bitterness, his aim is forgiveness and healing. Where there is deception, He offers truth; where there is hate, love. He has promised never to leave us nor forsake us. So, whatever we're going through we need to ask ourselves, "where is God in all of this?" To paraphrase
Francis Schaeffer
,
"God is there, and He is not silent."
Look for Him and listen.
What should we do?
In light of these two realities - that the enemy seeks to destroy and that Christ comes to give life - what, exactly, are we to do? Our primary responsibility, if we want the best of what God has for us, is to align ourselves with His purposes. As Jesus was speaking to ordinary people with real-world needs, He said in His
Sermon on the Mount
,
"
But seek first his kingdom and his righteousness, and all these things will be given to you as well."
(Matthew 6:33) This speaks of priorities.
We must remember that God made us, designed us, loves us, and knows us better than we know ourselves.
He knows what the future holds, knows our strengths and weaknesses; our gifts, talents and abilities, and what will meet our deepest needs. In light of all of this Jesus tells us that the greatest commandment is
"Love the Lord your God with all your heart and with all your soul and with all your mind."
(
Matthew 22:37
) This proper alignment enables us to do the right thing even in difficult situations, recognizing that it is God who is at work within us. It might not shield us from pain - life is just hard sometimes - but it can help our perspective, and enable us to see that God can bring good out of bad situations.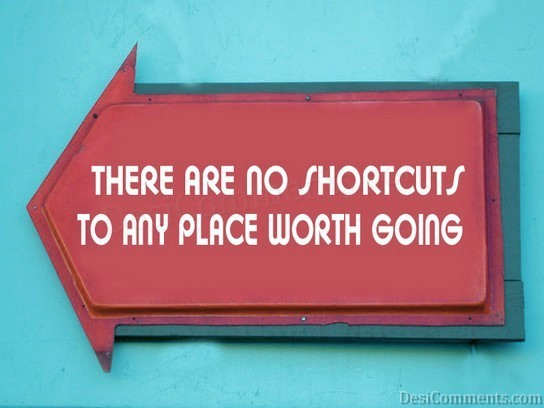 As we apply ourselves to this primary relationship through prayer and application of His Word to our lives, we find that there is a foundation of principles upon which we can build our lives. We find direction when the way seems unclear. We find supernatural resources that are provided as necessary. But here's the kicker -
there are no short cuts.
Jesus' call to each of us is to "
Take up our cross and follow Him."
(
Matthew 16:24-25
) This speaks of obedience regardless of the cost. It means doing the right thing even when we don't feel like it; even when no-one else seems to be. Jesus didn't promise that His way would be easy, but that it would lead to life. Too many people have selective hearing when it comes to the clear teachings of Scripture. They want to pick and choose which parts of it they will adopt and which they will ignore. Yet they expect that all will go well with them. Jesus never promised that.
Hear what Jesus said as He concluded His Sermon on the Mount.
"Therefore everyone who hears these words of mine and puts them into practice is like a wise man who built his house on the rock.
The rain came down, the streams rose, and the winds blew and beat against that house; yet it did not fall, because it had its foundation on the rock.
But everyone who hears these words of mine and does not put them into practice is like a foolish man who built his house on sand.
The rain came down, the streams rose, and the winds blew and beat against that house, and it fell with a great crash." (Matthew 7:24-27)
If there's a storm brewing in your life, the first thing you might want to do is to check and make sure that you're building on the right foundation. If you're not, the good news is that God allows U-turns. You can start today to set things right. I've been privileged to watch marriages and families restored and crises averted as people have asked the simple question, "God, what should I do?" It's a great place to start. Go and do likewise.
Related Articles:
Milestones
Life-changers
Life Lessons From A Fellow Traveler
More Life Lessons From A Fellow Traveler
If I Had It To Do Over Again...