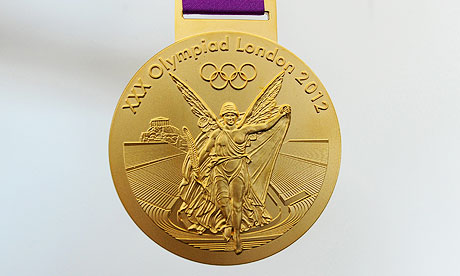 The Olympic Games of London have come and gone. I, like many others, spent way too much time watching sports I would never otherwise watch because, well, it's the Olympics. Even with the doping scandals and the bribery rampant in the IOC, the Games still represent so much that is good about sport.
Being Canadian, we've learned to celebrate personal bests rather than gold medals. In fact, a tongue in cheek motto I've heard recently is "bronze is the new gold." Our medal haul was 1 gold, 5 silver and 12 bronze, placing us 13th in the world as a nation - just one short of our goal.
I have to admit to a little bit of frustration watching my fellow Canadians fall "just short," or, in some cases, be disqualified or completely underachieve. For a competitive guy, that can be a little hard to take. But every once in a while I'm reminded that it's not all about winning.
When we consider some of the greatest moments in Olympic history, what comes to mind? Yes, there is
Usain Bolt
and his sprinting golds and
Michael Phelps
and his dominance in the pool. But there are also unforgettable stories of those who finished far behind that have grabbed our attention because of what they represent: commitment, dedication, perseverance.
I'm reminded of the story of John Stephen Akhwari, a little known Tanzanian runner, who competed in the marathon in the 1968 Olympics in Mexico City. Momo Walde won the marathon gold. One hour later, Akhwari entered the Olympic stadium – the last man to do so. Wounded after a fall and carrying a dislocated knee, he hobbled up to the track for one last push to the finish. He finished to a thunderous applause by a small crowd which will always remember that moment. It was later written of his perseverance –
"Today we have witnessed a young African runner who symbolizes the finest in the human spirit. A performance that gives true dignity to sport – a performance which lifts sports out of the category of grown men playing in games."
But Akhwari was far more modest. When asked why he did not quit, he replied,
"My country did not send me 5000 miles to start the race. They sent me 5000 miles to finish the race."
There's something to be said for finishing in spite of whatever challenges you face. This is even more true in our day-to-day life. It's not always easy and the sun doesn't always shine. Sometimes we get sick, we lose our job, we're faced with unforeseen problems and life just gets hard. What do we do?
We can choose to quit and play the blame game, but what's the good in that? An old family maxim says,
"It's a good life if you don't weaken."
It's a little simplistic, but the point is that sometimes you just have to keep going in spite of it all.
I'm reminded of what the Apostle Paul wrote in Galatians 6:9
,
"
Let us not become weary in doing good, for at the proper time we will reap a harvest if we do not give up."
Akhwari may not have won his race, but he certainly won the respect of a worldwide audience. He had every reason to quit, yet he continued.
You may feel as though you are reaching your limit. You may have encountered difficulties that have rocked your world. It does not mean that you are defeated - sometimes you win just by finishing the race. What is it that helps you to continue even when the road is long and hard? What is it that keeps you going when you feel like quitting? Focus on those things, and finish the race.
Related Articles:
Help In Hard Times
Seven Keys For A Better Life
How to Choose to Not Be Offended
"Do Your Own Dishes" - The Principle of Responsibility
"Take Out The Trash" - The Principle of Transformation